Blood Moons - Signs of the Times?
March 2015
For MP4 presentations Click Here or Here
For the promo MP4 file click Here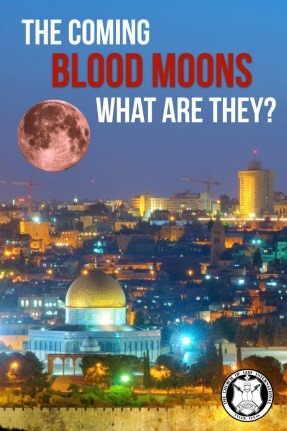 For PDF Booklet, Click Here

BLOOD RED MOONS AND SOLAR ECLIPSES ON GOD'S HIGH HOLY DAYS…WHAT DOES IT MEAN?
As surprising as it may sound, this year of 2015 , two rare blood red moons and a dark solar eclipse are set to occur in April, September and October on the High Holy Days of Passover, Tabernacles and Trumpets, commanded to be observed by God in the Bible.
It's an extraordinary phenomenon that should cause everyone to pause and think! Is God saying something to us? Would you like to hear more from your Bible?
Come and hear George Ramocan and Bill Watson expound from the Bible the global significance of this end-time event!
Date: Saturday, March 28
Time: 11:00 AM
Location: Sandman Signature Hotel
5400 Dixie Road
Mississauga, ON
Free Admission and Parking

Astonishing as it may seem, four blood red lunar eclipses will occur on the biblical Holy Days of Passover and the Feast of Tabernacles in 2014 and 2015. Additionally, two darkened solar eclipses will occur during the same period at the beginning of the biblical calendar year, and the Feast of Trumpets! What does it all mean?
For this pattern of eclipses to fall on the feast of Passover and the Feast of Tabernacles two years in a row, and for two solar eclipse to occur on important biblical Holy Days in the same year (2015), God must be saying something to us!
It is not as though there will be many eclipses and some happen to fall on the biblical Holy Days.These are the only lunar and solar eclipses that will occur in 2014 and 2015, and all of them will occur on God's holy days!
This striking and rare phenomenon should cause every Bible believer to think and want to know more. Come and hear the biblical explanations for this phenomenon and its meaning for Christians today. It's a a presentation you don't want to miss! Please invite a friend as well.
The presentation will take place on Saturday March 22, 2014 at 1:30 P.M. at:
Trinity Presbyterian Church
2737 Bayview Avenue, Toronto, (1 block south of Hwy. 401 with entrance on Truman Road).
Speaker: Pastor George Ramocan.
Parking is Free.
We look forward to seeing you.