Infuse Magazine
Printed Winter 2003 - Fall 2007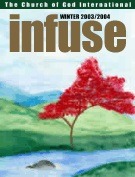 Winter 2003/2004: Premier Issue
What Does The Bible Have For Me?
The Truth About Christmas May Pay Off In The Future
Pathway To The Future
Everyone Is A Someone To God
Your Body: Start With Your Heart
Serving Your Community: Soup Kitchens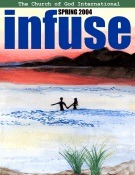 Spring 2004: Christian Living
Internalizing the Passover
Spring Holy Days of God
The Passover Lamb
Pentecost
It's The Sabbath, Now What?
Should I Date Outside the Church?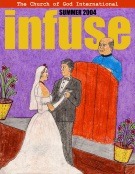 Summer 2004: Love, Sex & Marriage
Choosing the Right Adam or Eve
Dating: A Tool In Preparation for Marriage
Save Yourself
Everybody Else is Doing It
Date Rape
I Was Raped And Now I'm Pregnant
The 3 Essential Keys to Success in Marriage
If A Marriage is No Longer Fulfilling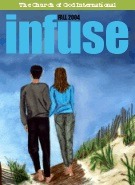 Fall 2004: Defending Your Faith
Jesus Christ To The Rescue
The Great Need For Atonement
Facing Your Fiery Furnace
A World Right Side Up
How Do I Represent Christ Without Turning People Off?
The Last Great Day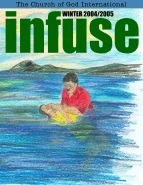 Winter 2004/2005: Salvation
Salvation Begins w/the Word of God
True Repentance
God's Patience & You
Baptism, Are You Ready?
Real Salvation
Heaven & Hell
Will Non-Christians be Saved?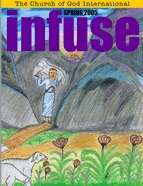 Spring 2005: Jesus Christ
Coming Of Christ Foretold in the Prophets
Who is Jesus?
Roman Occupation, And a Promise of Hope
Miracles of Christ
The Death and Resurrection
What Does Jesus Expect From Me?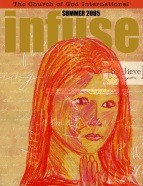 Summer 2005: How to be a Christian Man/Woman
A Hunger To Serve
Fellowship of Service
Who, Me? Serve?
Semper Fidelis: Always Faithful
How to Be A Gentleman
Mentoring
The Role of Christian Women in Paul's Day
How to Be A Christian Father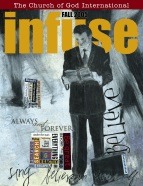 Fall 2005: Purpose of Life
God's Plan: A Plan for Success
You Need to Set Goals
Kingdom Success: Imagine What God Could Do
The Purpose of Life
Am I a Better Person if I'm Poor?
Am I a Bad Person if I Make A Lot of Money?
.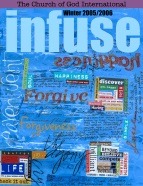 Winter 2005/2006: Forgiveness
Understanding Forgiveness
Begin with Repentance…
Consequence or Condemnation
Leaving the Past Behind
Forgiving Others: In Every Situation
2005 Feast of Tabernacles
.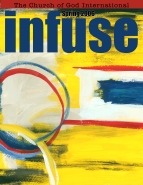 Spring 2006: Drawing Close to God
Meditation
Understanding Prayer
Responding to Your Enemies
Good Stewards of Time
10 Steps to an Effective Bible Study
Fasting
.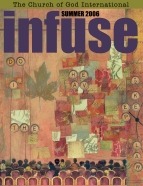 Summer 2006: The Law
The Law of God: For Jews Only?
Mom and Dad
Trinity…Where?
God's Great and Magnificent Plan
Food Laws
Faith Works
.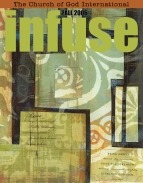 Fall 2006: Building Character
Your Character Under Pressure
Barnabas: Son of Encouragement
Growing in Character
Character vs. Competency
Invisible Eyes
We Must Develop the Character of Self-Control
.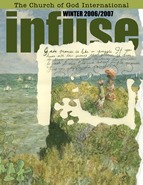 Winter 2006/2007: God's Promises
His Promises are for Sure
True Worshippers
Signs of His Promises
Submission & Faith
What is Marriage All About?
Waiting Patiently For God's Promises
.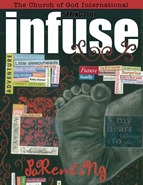 Spring 2007: Parenting
God's Precious Children
The Foundations of a Christian Relationship
God the Father
Nurturing the Future Leaders of Tomorrow
Combating the Media's Influence
"But Mom, I'm Not Ready!"
.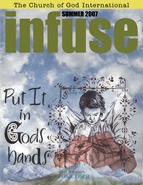 Summer 2007: Healing
Jesus and Healing
The Sin/Sickness Connection
God is Our Healer
The Miracle of Prayer
Confession: Only to God?
Claim it By Faith
.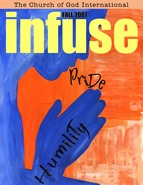 Fall 2007: Pride & Humility
The Importance of Being Humble
Who Are You Trying to Impress?
Teaching Your Children Humility
Understanding Humility
The Boomerang Effect
The Humility of Christ
.
Winter 2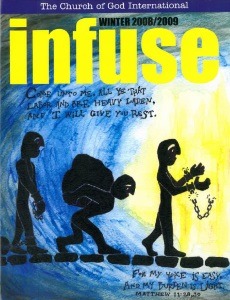 008/2009: Suffering, Trials & Encouragement
Your Emotional Spectrum
Errors & Admissions
The Glass Half Full
The Man Born Blind
How To Save A Life
Always
The Ways of Your Heart
.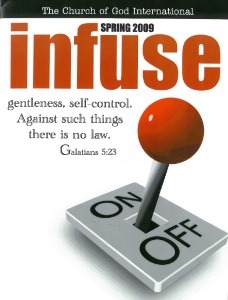 Spring 2009
Art of Patience
Maintaining Self Control
Love
Have Joy
Self-Control