Ottawa Testimonies
Ottawa Church members speak of How God has intervened in our lives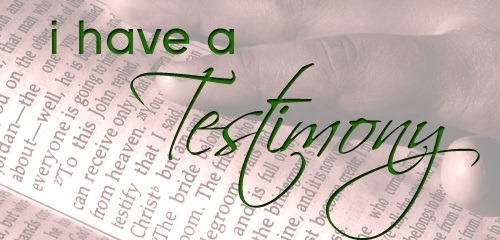 (come and ask us more… because we love to tell the Story!)
Click on the Names here to jump to their Testimony

CGI Ottawa Services Relocated to Kingston General Hospital Chapel
Isaiah & Auntie Margaret – Missing a Close Friend
Elizabeth Dugger Udell- Remembering a Friend
David & Margaret- Vacation Trials provide an Opportunity
Lila – Prayer of Faith and Healing
Ottawa Choir – I Cannot Tell
Margaret – My Mother's Apron
Gord – A 12 year old boy Falling through Ice – Remembered over 50 years later!
Al – The dark night that a jackknifing 18 wheeler lost a tire!
Jim – The power of prayer and anointing to heal an infant with Whooping Cough
.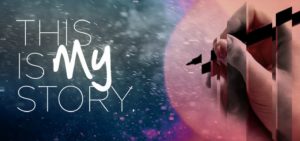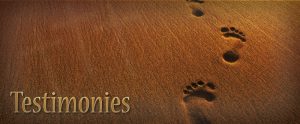 .
.
.
.
.
.
.
CGI Ottawa Services Relocated to Kingston General Hospital Chapel
Gord Deir has been attending CGI Ottawa services for a number of years, and is now in palliative care in Kingston General Hospital. When our congregation heard that Gord really wanted  to attend another service with us, we relocated our services – 2 hours away – to the chapel in the hospital.
Jim French, Barb and Jim Leith from Kingston were able to arrange for the chapel for the service. Nearly all brethren from Ottawa came as well as visitors from Kingston and Toronto swelling our ranks to around 30 people.
We sang Gord's favorite hymns and the choir sang "Because He Lives". David Townson gave the sermon reminding all of us of the glorious hope of the resurrection!
The service was followed by photographs, refreshments and the presentation of a home-made card with a photograph of the Ottawa congregation with signatures and loving messages from the brethren. As Gord was taken back to his room, he smiled and waved as we waved back and called out to him!
.
Missing a Close Friend
One of our Teen members (Isaiah) lost a close friend in 2017 and wanted to share this poem that gives him Hope
Why did you have to leave so soon?
Written for Isaiah by Auntie Margaret, June 17, 2017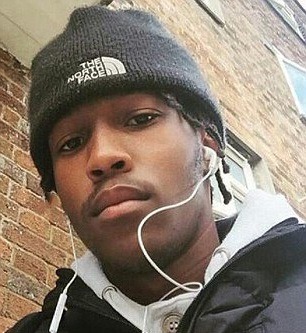 Why did you have to die so soon?
You have been my friend
My heart is broken and will not mend. 
We talked at school, 
We talked on the phone,
We laughed, we joked,
You have been my friend.
Why did you have to leave so soon?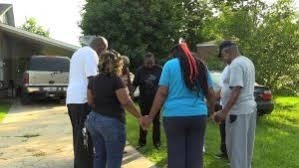 Why did you have to die so soon?
I will keep the good memories of our times together,
I will think of you no matter what the weather!
Your dad, your mom, your family
Will miss you too.
You were their son, their brother.
You, there will never be another
Just like you.
Why did you have to leave so soon?
Why did you have to die so soon?
I know that this life is not the end.
The time will come when we will meet again.
I will think of you every day
And look forward to the day we meet again.
But I wish I knew why you had to leave so soon…
Remembering a Friend
Elizabeth's sudden passing from liver cancer has come as a surprise and a terrible shock to many: her family, Dan her husband, her family, her children, Jonathan and Rebecca and their families, plus her many colleagues and friends, her sisters and brothers in Christ.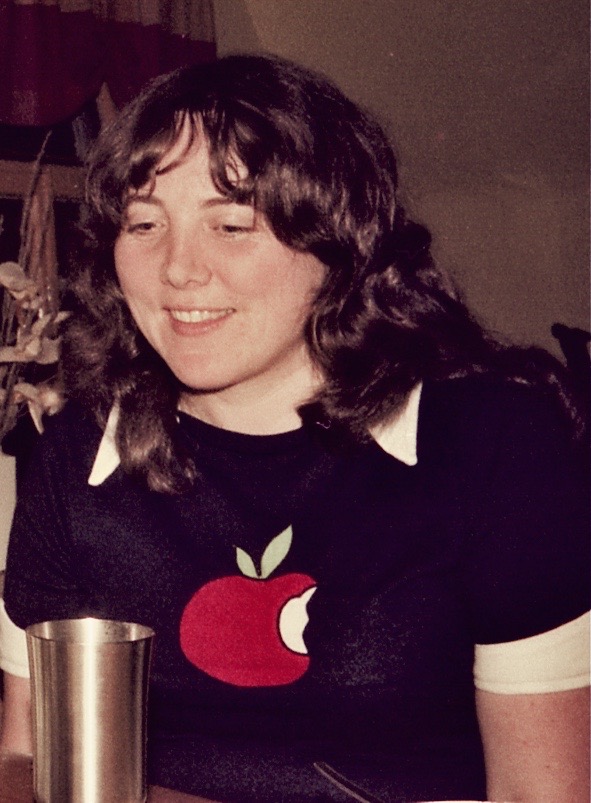 Elizabeth's loving thoughtfulness shone through her actions and words on many occasions. Several years ago, Elizabeth and Dan came for supper with David and me bearing a very special gift: a set of blue willow pattern 'crockery' (dishes) the same pattern as my mother's wedding dishes. Elizabeth noticed and she cared so generously!
Elizabeth's laughing and mischievous eyes will forever remain in my memory. When we were both single, she sometimes played amazing pranks. She would invent hilarious cards and funny gifts. Another gift she gave me is a small clay pottery incense burner which is so effective when burning eucalyptus or lavender. It reminds me of Revelations 5:8 incense representing the prayers of God's people.
Finally as my mom was nearing the end of her life, Elizabeth and Dan came to visit bringing 2-year- old Jonathan. The last photograph I have of my mom before her passing is with Jonathan sitting on her favourite footstool.
Elizabeth's profound faith and faithfulness to God were evident in her life which included so much: her industrious care for her family, home and garden, her creativity in artistic, musical, dramatic activities, her love of her brethren, her service to her brothers and sisters through generous hospitality and her deep love for and commitment to her family.
Before Elizabeth's passing, David and I visited her to take her an anointed cloth that she had asked for demonstrating once again her faith in God and acceptance of His will. Our conversation was all about the soon-coming Marriage Supper of the Lamb- looking forward to meeting again. This was the only time during our visit that brought a beautiful smile to her face. I will treasure that memory.
See you soon, Elizabeth! Your friend, Margaret
.

      .Vacation Trials provide an Opportunity
In a world of awesome technology – where people "live" in outer space (on the International space station) and human knowledge doubles every 13 months … we are still humbled by "how things can go wrong", and "how one thing leads to another"!
Ottawa members David and Margaret embarked on another "vacation adventure" in June 2017 … this time to Tennessee … and in the midst of their exploring, their vehicle hit a deer!  Fortunately, God's protection was around them… but … there are still the matters of dealing with Insurance, Body Shop repairs, car rental, and Police Reports.
A twist in the story involves the challenge to get a "Canadian version" of an automobile repaired in the USA! (Yes, even the driver's side mirror can be different between the US model and the Canadian car!) … A repair that normally might take a couple days, was taking weeks … from June 5th to June 22 or possibly July 7th!   Medicine prescriptions  needed to be refilled, and although credit cards worked okay … cash advances did not?!?
It's great that David and Margaret did not let this situation spoil their adventure!  Margaret writes… "  such a beautiful state in the USA. Our interest in history has taken us to a number of interesting places: The Hermitage (President Andrew Jackson's home, President Polk's home, The Archaeological Museum, Builtmore Estate in North Carolina and lots of other places, gardens …. We have been to the Cumberland Gap which is a breath-taking view. David is taking lots of photographs…".
… And another highlight of the trip was the chance to fellowship with Church of God brethren. David wrote … "We have attended services with United Church of God three times and look forward to one more service with them this coming week. Margaret is doing special music for that congregation this coming Sabbath. We have met many brethren and made some new friends in that congregation. The pastor and all the people have been really kind to us".
We don't know if this "trial of their faith" involved an "angelic deer" that crossed their path to help David and Margaret form some new Church friendships (the police reported there was no trace of Bambi!)… but we do know that unexpected things will come up in our lives, and it is great to have a Heavenly Father who is involved and "just a prayer" away… a spouse to lean on, some church friends to encourage you, and a positive attitude … to find the opportunities and silver linings that these adventures can bring.
Back in Ottawa, David and Margaret received some "deer whistles" to fasten to the outside of their car, and the following framed scripture of encouragement from the congregation!  … A "tip of the hat" to the United Church of God congregation in Knoxville and Allentown for extending the hand of friendship to our Treasured Adventurers!
.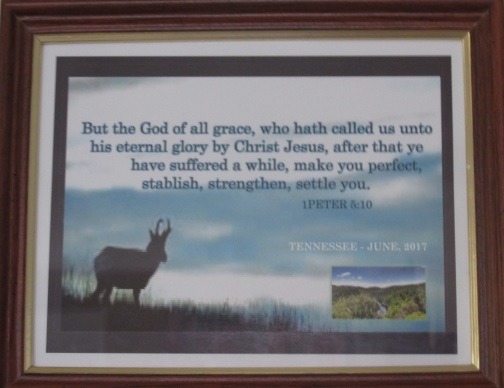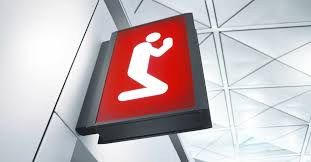 Prayer of Faith and Healing
Many years before I came into the Churches of God I was always sick with colds, coughs, headaches and asthma.  Then I learnt through the Plain Truth magazines the importance of including fruits and vegetables in the daily diet.  Furthermore, I learnt of the dietary laws of Leviticus XI in which the pre-incarnate Christ Jesus prescribed certain categories of non-toxic flesh foods for those who would serve Him.
I came to understand that sickness for the most part is a sign of toxic waste in the body so that one of the first things I do when sick is to go through a checklist – too much salt?  Too much sugar?  Too much processed food?  Too much caffeine?  Too little herbs?  Too little water?  Too little exercise?  Not enough alkaline foods?  We are all responsible for our own health but some things we cannot help so when I am not in control I call out to the Father and Christ Jesus to show me what I can do to get better, whether it is to use alternative medicine or synthetic because all knowledge comes from the Creator who allows mankind to accumulate knowledge of the body and how to mend faulty parts.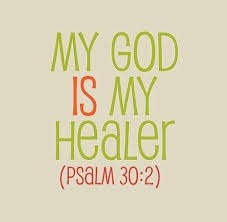 As a mother I followed the above guidelines and accepted the gift of healing that Christ promises through the prayer of faith and anointing.  When my 18 month old baby fell ill with a virus, she was anointed but as her condition worsened she was admitted to hospital where her fever was controlled.  However, she could not drink anything which I realized was due to negligence on the part of the nursing staff who expected a weak child to pick up a bottle on her own to drink when she was still accustomed to being held.
My recourse was to fast and call the doctor for permission to take her home.  He was reluctant but agreed.   He was not accustomed to a mother waking him at 5 in the morning asking for the release of his patient.  I brought her home.  Then throughout the day gave her mouthful of orange juice and a whole concoction consisting of spinach water, agar agar(sea moss) and garlic water, whatever came to mind.  The next day we went to the doctor's office and she had gained 2 ounces and steadily recovered.
The next occasion when I relied on anointing was when I took my asthmatic son to keep the Feast of Tabernacles in Guyana, which country was suffering dire economic problems and getting sick there might have been problematic.  He was anointed before we left and throughout the period only had to use his puffer once because of a wheeze.
It is humbling to call on brethren, sometimes strangers, to intercede on your behalf.  However It is a mark of submission to the authority of Christ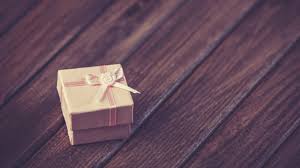 Jesus and the authorities He has placed in His Church.  He says: Come unto me, all you who are burdened and I will give you rest and through James:5 He gives the final gift of salvation to those who are not going to be physically healed in this age.
That is the gift I never want to scorn.
A Testimony is defined as… "a public recounting of a religious conversion or experience" … Sometimes a testimony is put to music and the CgiOttawa Choir sing a testimony with  these beautiful words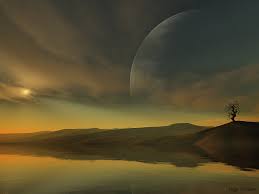 I cannot tell why He, the King of Heaven,
Should leave the peace of all eternity,
Why God Himself should lay aside His splendor
To leave the Father's side and come to me.
But this I know: our silence filled with singing,
And all our darkness fled from heaven's light
When Christ the Lord, so human, yet so holy,
In love was born a child for me that holy night!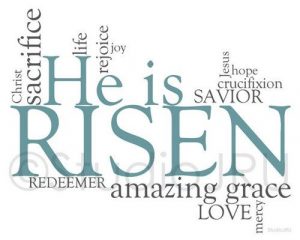 I cannot tell why He, the Joy of Heaven,
Should give Himself to suffer for my sin,
Why Holy God should love me in my shamefulness,
Why He should die to draw my soul to Him.
But this I know: that Christ the Lord is risen,
And praise His name, He's risen now in me!
Because He lives, I'll rise to life eternal!
He took my guilty heart, and I'm forever free!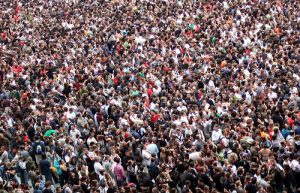 I cannot tell when He will rule the nations,
How He will claim His loved ones as His own;
And who can tell the holy jubilation
When all His children gather 'round His throne.
But this I know: all flesh will see His glory,
And skies will burst as all creation sings.
The Son will rise on one eternal morning
When Christ, the Savior of the world,
is Lord & King!
==============================================================
Margaret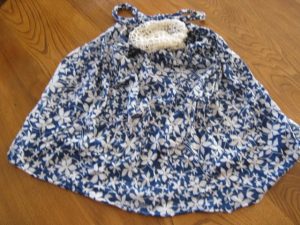 My Mother's Apron
My mother used to help families in crisis in her prime. She would live in and do cooking, cleaning and simple, comforting care of a sick family member and support the other members of the family. I was a kid so I went along and know all she did to help families find their balance again. I also know that she prayed for them as she put on her apron to begin work!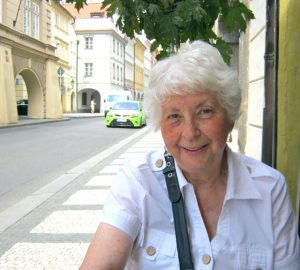 As she became seriously disabled, she was no longer able to offer this kind of help and she mourned to see families that needed her and she could not help. I remember suggesting that maybe prayer would now become her work. From then on as I left for my job, she would put on her apron and sit down (she could no longer kneel) to pray. That was her job!
Mom was wearing her apron when she passed away in my arms and I removed that apron and keep it to remind me how much I need to pray. My prayers used to be so specific but I have learned from my husband to simply lift problems and people up before God and ask for His Wisdom and Help.
Have I seen God answer prayer? Oh so many times! Crisis prayers! Driving and heading for an accident, I've seen and felt the Hand of God in answer to my cry "Father, Help!" Miraculous healing! Yes a hugely painful tendon simply stopped hurting after my prayers!
Facing very serious situations in my life, I have learned that becoming a 'praying person', conversing with God about problems brings long-term solutions that really work. Many years ago, I too faced disability with hip and back problems. Did I want miraculous healing? I certainly asked for it but God answered in different ways- I found a massage therapist who has kept me walking for 20 years! When the problems again invaded my life, yes I again asked for miraculous healing but God gave me wisdom to explore hip surgery which has now been so successful and I thank God! Praying becomes a way of life- one foot on the earth and the other before God's Throne on that Sea of Glass! Praying! Am I still all too human and sometimes forget to pray? Yes that too… but I know better! Help me, Father! In Jesus' Name! Amen.
===============================================================
… Would you like someone to Pray for your situation?  … CgiCanada has ministers you can reach out to on our Pastors page.  We also have a caring Prayer Ministry with members eager to bring your needs to God.
==============================================================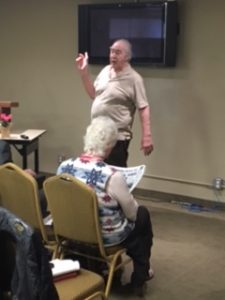 Gord Tells the Story that the newspapers forgot …
When I fell through the ice and was hanging on … I kept saying,
Please God Save Me!
Click the link to hear Gord tell his front page news story: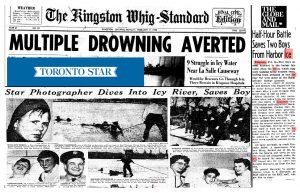 ==============================================================
… Would you like to understand more about Prayer?  Click for
our Free booklet  How To Be More Effective In Your Prayer Life
==============================================================
Our Father and His Son protects us!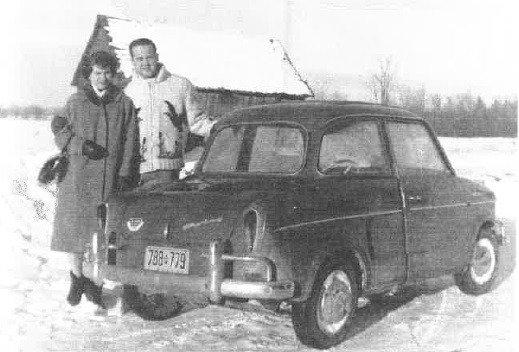 My small 1959 NSU Prinz (2 Cylinder Rear Engine) weighing only 1200 pounds, was stopped around midnight to assist a transport that was pulled over (disabled – with no lights working).  An oncoming transport jackknifed while trying to stop … and a tire came flying off the jackknifing vehicle!  l was inside the car when the wheel collapsed the (rear) hood of the car … Then the tire bounced into the air, travelling over the oncoming lane and into a field 100-150 feet away!  The same kind of "run-away" tire accident killed a Kanata man in early Feb, 2017.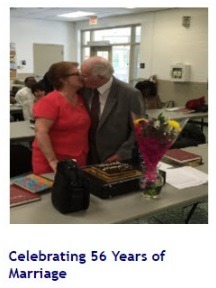 Wow … and here is Al and Angie 56 years later celebrating their Wedding Anniversary!
We are all thankful that God Saves!
==============================================================
… If you would like to understand more about the God who Saves?
Click for our free booklet Who, What is God?
==============================================================
The comfort of a minister's voice and God's Healing touch!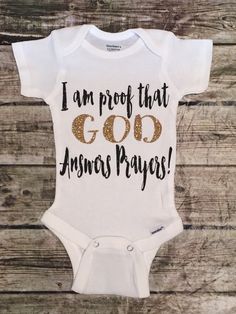 One of the most frightening things facing new parents is an illness of their child.  I remember when my firstborn infant son developed "whooping cough" … It was a terrible sounding cough that is distinctive because every breath taken is a battle.  Every inhale my son took was a wheezing battle to breathe!
We were praying for him, and we made sure we got proper medical attention … but we were afraid…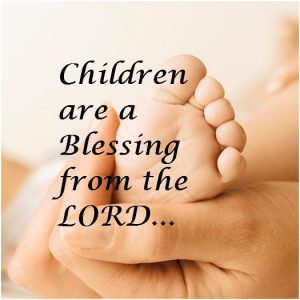 James 5:14-15 Is anyone among you sick? Let him call for the elders of the church, and let them pray over him, anointing him with oil in the name of the Lord.  And the prayer of faith will save the sick, & the Lord will raise him up.
We called our minister, and he was at our door within 15 minutes!  He asked a few questions and then took up our son in his arms … and rubbed a couple drops of anointing oil (olive oil) on my son's forehead – and he prayed.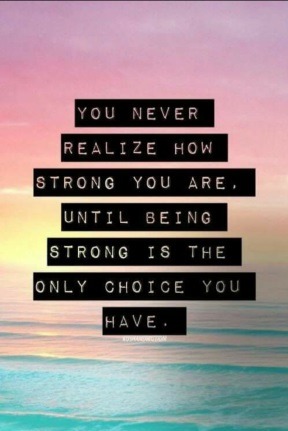 After the prayer, our pastor passed our son back to us and smiled and said "He will sleep well tonight!" … And, with those words, he disappeared back into the night.  We were comforted by his urgency, caring and faith — reminded how Jesus loves little children.  And my son DID sleep well through the night!  Perhaps God is most kind to "young believers" who need to see his mighty works performed though a quiet prayer and anointing.
2Ch 16:9 For the eyes of the LORD run to and fro throughout the whole earth, to show Himself strong on behalf of those whose heart is loyal to Him.
I believe  in the power of Prayer to our Father … because I have seen miracles in my life
===============================================================
… Would you like to understand more about God's Power to Heal?  Click for our
Free Booklet The Miracle of Healing
===============================================================